This weekend my friend of 26 years came to town this weekend. We've been friends since say, first or second grade. I can hardly believe that. I'll have to see if I can scan one of the early pictures of us I found this weekend. In any case, the story goes, that I was very frustrated with my computers always running slow and locking up all over the place. Hubs would rant and rave like a lunatic about how awful his was. We would love to switch to Macs, but funds aren't available...so we are stuck on our PC's. Jen and I were chatting on YM one day and I shot out the idea of her coming to PHX on my dime because I needed an IT professional to fix all 5 of our computers. So, she could get out of town, we could visit and I would pay less than if I had paid some unreliable geek squad to come fix my computers and have alot more fun.
So on Friday the adventure began. This was supposed to be a relatively uneventful night as it was the arrival and computer day. It was supposed to end with a neighborhood birthday party. One of our Dr. Who loving neighbors had a birthday and we were celebrating with Mexican food and a Margarita ball that she had given N previously. However, we got a call an hour before from the neighbor (K&M) taking care of Lucky that one of her horses was very ill and they needed Gary's help to keep him up. So, off he went and I called round the neighborhood to tell of the horse that probably wouldn't make it. And you see, K is the one that cooks our party dinner, so we only had side dishes in the making and a sick pet kills the party atmosphere. So, Gary ended up helping them with the horse all evening long while our other neighbors went on with a smaller version of the party and pizza. Jen and I popped our head in to deliver the gift after awhile, pick up a margarita and go back to the room of the torn up computers. That didn't happen...
We stayed a few minutes and in the course of the few minutes, we had margs, went to K's house next door to feed horses. There was this discussion of climbing the fence and it was clear that N in a skirt wouldn't do well going over the fence after the few margs she was ahead of us with. But we went anyway, giggling quite alot while throwing hay in the general direction of said horses.
When we got back in and had another marg for the walk past the street, the pizza delivery 'boy' came. But when I opened the door, it was a delivery girl. Poor N, ended up telling her that she was quite a better sight than the delivery boys, did they send her when they knew the pizza took a long time so people wouldn't yell at her. Then she added the kicker: Not that I swing that way. Too many margs. After J shooed N away from the door long enough to tip the driver, I'm sure she wandered back to the pizza place shaking her head in amazement...though she knew the house well enough to know they had just painted and were missing the dog gate!
About 9pm Hubs called and was hungry, so we finally decided on sushi and met him up there, as he was coming from the horse hospital. We exposed Jen to all manner of new rolls beyond the California roll and Hubs even got her to eat Eel! She also tried some saki for the first time and enjoyed it. Some discussion was had about the color and what it reminded us of, but that's quite another story.... During the meal, Hubs had two cocktails and a saki. I mention this because before we left, he felt he should go home a different way because he knew he'd get pulled over by a cop. However, he likes to follow me home, so he ignored said 'premonition.' 3 houses from home, he got pulled over, pulled out of the truck and put through the DUI paces. I said to Jen as we were watching, the man usually has a gift of getting out of tickets, but I think this is going to be a VERY expensive one that he's not going to get out of. So, we watch the entire test in the dark. Meanwhile I fill in Jen that because the truck has some issues (check engine light and speedometer that doesn't work...etc, etc) that it hasn't been registered as we've not budgeted the $$ to fix it so it will pass inspection. We rarely drive it. So, that in addition to this DUI I was certain he was getting an expensive citation and lecture about car registration. A couple of minutes later, we saw Hubs get in the truck and I get a call from him. I'm sure that he's going to tell me that I'm going to have to pick him up at the 'big house', but he GETS OUT OF THE TICKET!
When he gets home, I grill him to find out that he NOT ONLY gets out of the ticket, because he blew the breathalizer below the legal limit, but also the cop NEVER looks at the tags to find them expired! The man is being watched over I tell you. He got VERY lucky. Oh, and managed to get me in trouble while he was at it... He told the officer that the reason why he swerved was because he was following me home. The officer asks, why are you following your wife home. "Because I always do." The cop assumes I'm drunk and he's covering for me and he lectures him not to ever let me even drive that way!
In any case - The rest of the weekend was very fun. We ran up to Sedona the scenic way on Saturday and took a hike. Before the hike we went to see the chapel built into the hill. So, pictures are of that and the Sedona hike. We got rained on at the chapel and this made the temperature difference between PHX and Sedona, 40 degrees. It was SOOOOOOOOOO nice, because this time of year, you are so ready for the summer heat to be over and well, we've got another month 1/2 of it left.
On Sunday the fur kids showed off their rally and agility skills and helped Jen finish up their computers. I am so thankful to have a great friend who also happens to be an IT person, because our computers are so much happier now and we will be too!!!!!
Ok...off to the neighbors to eat good food! Here are pics: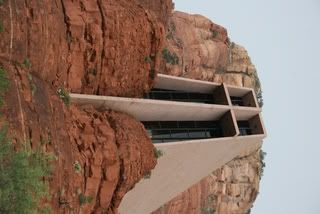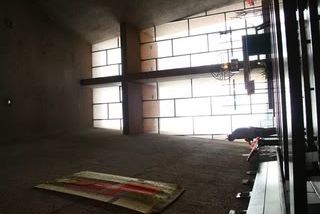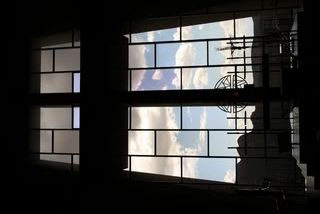 Here is a link to find out about this chapel that was built by a Frank Lloyd Wright student:
http://www.gatewaytosedona.com/article/title/ChapelOfTheHolyCross10010410/page/1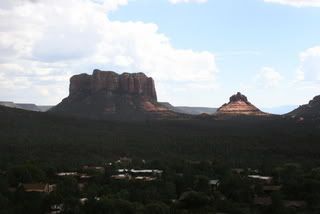 View from chapel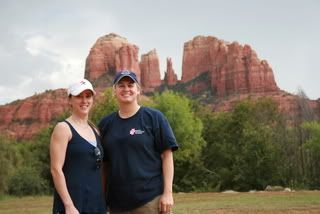 Jen and me at the Red Rocks of Sedona...we hiked up into them just a slight bit...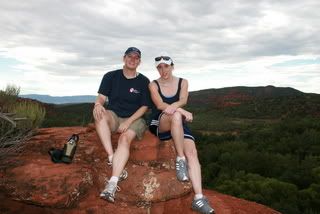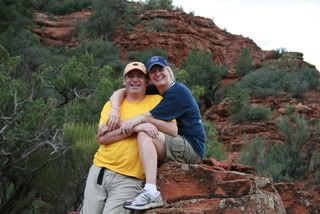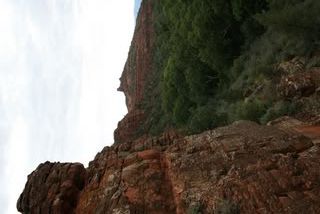 OK...guess that's it for now!
S